Schedule of
Town House Books & Café
Events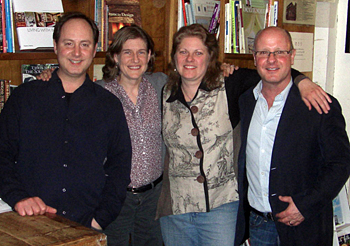 Author Signing: Lucy Dallman
Saturday, September 10th 11am-2pm:
Lucy will sign copies of her new book Little Girls, Little Girls, a strong inspirational book for girls of all ages. The text of this children's art book is the lyrics of an original song by the band The Arts Department. The illustrations are watercolor landscapes by artist Kathryn Fimreite. A QR code for the original song and the piano and guitar music are included in the book.
Book Lovers' Happy Hour
Thursday, September 22nd 5-7 pm:
Over the years we have hosted these special evenings to invite our customers to relax together with great books, good wine & light hors d'oeuvres. Please stop by to browse new books and talk with booksellers and fellow readers. We offer a 20% discount for purchases made that evening (special orders not included).
Author Signing: Jay Payleitner
Saturday, October 8th 11-2 pm:
It's Scarecrow Festival time again! Town House will be hosting local author Jay Payleitner on Saturday, October 8th 11-2 pm. Jay will be signing copies of his new book Hooray for Grandparents!
Gallery of past events, readings, and Dinner with the Author evenings.