Truly happy memories always live on, shining. Over time, one by one, they come back to life.
–Banana Yoshimoto, Kitchen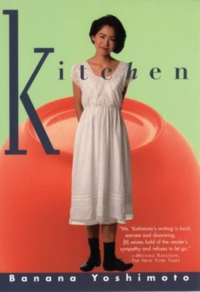 I've been excited this past year by the many interesting books and films from Japan that have come my way. Without any intention, I have found myself immersed in a variety of works that seem to share common threads of perception that are notable in my reading life.
I find with Japanese fiction that it isn't always the first flush of the story that captures me, but rather the aftermath of clarity it evokes that keeps me reading. Perhaps in part because of translation, there is a unique cadence and directness that I welcome.
Haiku, for many years now, has been an integral part of my reading, but more recently, I have been enjoying, among others, the wonderfully translated novels and short stories of Banana Yoshimoto.
Her first novel, Kitchen, was written in 1988 and translated into English in 1993. Just by reading the first fifteen pages, you might see what I mean about cadence. One of the things I love about books is that they wait for us. It's funny because, as a bookseller, I have been aware of this book for years. I walked past it, sold it, could tell you where it lived on the shelf in my bookstore, but it wasn't mine until this year when I opened it and read:
"Just when one can't take any more, one sees the moonlight. Beauty that seems to infuse itself into the heart. I know about that."
-Banana Yoshimoto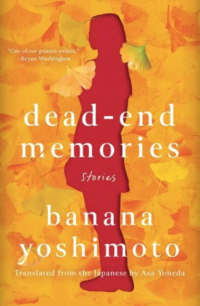 Yoshimoto's short story collection, Dead-End Memories, was just recently translated into English and published in 2022, though she wrote it in 2003. These stories follow the lives of five women who are each winding their way back to a renewed sense of themselves after difficult intervals.
In one story the protagonist reflects:
"I also discovered that sitting in a café watching people go by was just like watching a river. It could only happen in a city with a long history. The sight of modern-day people streaming past old, weighty buildings of frightening shapes and colors—that was exactly what a river was."
-Banana Yoshimoto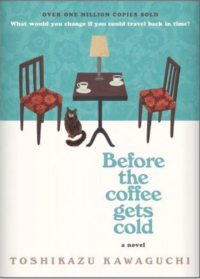 I also recommend the Before the Coffee Gets Cold series by Toshikazu Kawaguchi, set in a 150 year old café in Tokyo that allows patrons to time travel. To me the most interesting parts of these stories are observing just which moments people choose to either return to or to visit in the future. Some are not at all what you might expect.
Similarly, in the film After Life, by Japanese writer/director Hirokazu Kore-eda, the question is posed to each person who has died: What one memory from your life would you choose to live in as your afterlife? This stood out, in my mind, in juxtaposition to the novel Tell Me An Ending in which people are asked to identify and erase their worst memory in hopes of healing their lives.
All of this serves to remind us that we live a life of moments, both the ones we embrace and those we wish to forget. There is something inspiring in the simple recognition of these small, poignant fragments that comprise our lives. Something so moving when a gifted mosaicist places each tessera at home among all the others.
I hope mentioning these titles will invite you to explore more literature from Japan. For staff recommendations and more conversations about books please follow Conversations About Books above.
Happy Reading!
For Additional Reading
Recommended Viewing:
Departures, Sweet Bean, After Life, Happy Hour, and a charming Netflix series called Midnight Diner.