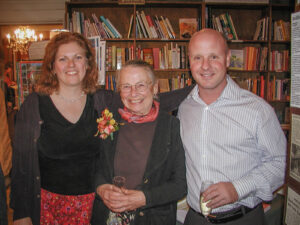 We take time in March to honor the many women who have contributed their art, ideas, courage, scientific breakthroughs, political prowess and business acumen. We include among them our own bookstore founder Marilou Kelly (1933-2014) (Marilou in the center between Manager Heidi Schmidt and current owner David Hunt) who had the vision in 1974 to forge a community bookstore where there was none.
We may wish that such special recognition were not needed, that women had naturally been heard and accepted alongside their brethren rather than eclipsed, subverted, quashed and quieted. But as history stands, we must now excavate and celebrate those who have too long been out of sight. In that spirit we hope you will read and enjoy along with us the progress that has been made…
Women's History—In The Arts – Tina Modotti, Dorothea Lange, Vivian Maier, Hannah Höch, Lee Krasner, Sally Mann, Lee Bontecou, and many others.
The Female Voice – Carol Anshaw, Ursula Le Guin, Elaine Stritch, Lou Andreas-Salome, Susan Sontag, Ann Lister, Alexis Pauline Gumbs,… covering all kinds of subjects.
Biography & Memoir – Hear from Audre Lorde, Shirley Chisholm, Dorothy Day, Kamala Harris, Hannah Arendt, Sylvia Plath, Van Gogh's sisters, and many others.
You may also find something of interest on these lists:
Happy Reading!