What's So Special About Forty-Seven?
We visit bookshops not so often to buy any one special book, but rather to rediscover, in the happier and more expressive words of others, our own encumbered soul.
–Christopher Morley (1890-1957) "On Visiting Bookshops" 44 Essays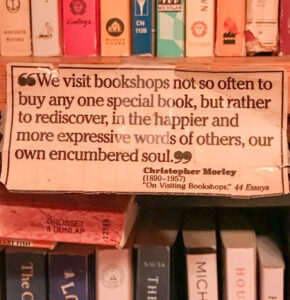 This little quotation has been hanging behind the front counter at Town House for the many years we have been in business.
I realize it's customary to celebrate on 0s and 5s, but after the year and a half we've all been through we aren't putting off until tomorrow what we can celebrate today.
We are calling this an anniversary rather than a birthday because it is a celebration of a relationship—a forty-seven year love affair between a bookstore and a community.
There has been much said about independent bookstores and our importance in the community as the pandemic threatens individuals and businesses alike.  During this past year, through countless conversations and emails with customers, we've come to see how vital our relationships are.
All of this gives us the confidence that there is value in not always the "shiny new thing" for the sake of being new, but in celebrating the merits of a place that hasn't changed much in its core mission as a bookstore. The beautiful "patina of age," as Patrick Leigh Fermor so eloquently put it.
Town House Books was founded in 1974 by Marilou Kelly because she believed that every community should have a local bookstore.  Marilou's mission was passed on to current owner David Hunt in the early nineties when Marilou decided to retire and sell the store.  I came on board as store manager and buyer soon after in 1995, and we have been working together ever since to make our store a unique place for people to read, laugh, discover, and converse in the company of fellow book lovers. The attached café was added in 1996 to contribute to the inviting ambience of this endeavor.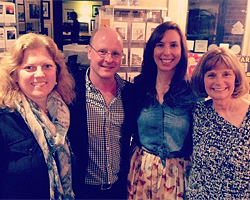 In May 2020, in response to the pandemic, we started our online bookstore through bookshop.org with the intention of creating a remote shopping experience that would mirror the kind of selection and recommendations that our customers have come to value in our shop. We also started this newsletter to better stay in touch and share timely conversations about books.  And we hope you are all enjoying the Monday Morning Poem on Instagram and Facebook.
You can also continue to our new website that we launched August, 2021 that allows us to provide better access and more up to date book recommendations.  It's another chance to enjoy browsing and to keep up on all the latest book news, plus there are just lots of fun pictures!  A huge thank you to our amazing web designer, Mark Mitchell.
Most of all, we want to celebrate by thanking you, all of our loyal, smart, engaging, delightful customers, for sharing your interests and curiosity and partnership with us through the years.
Happy Anniversary to all!
Happy Reading!