"…to love books as living things…"
–Amy Gerstler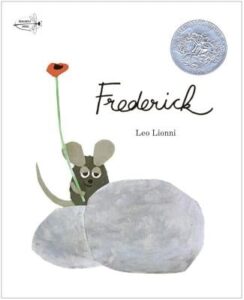 Most of us can think back on our lives and celebrate the wondrous alchemy of forming a relationship at just the right time with a person who sustains and delights us. I've been a reader and bookseller long enough to realize that in reading books we are also creating relationships and, just as between sentient beings, an alchemy takes place that is reliant upon many mysterious forces.
From the earliest age we watch inexplicable attachments form. A child might take to a whimsical patchwork elephant, or cherish a little poetic mouse wielding a red poppy. Maybe our imaginations were captured by a boy hollowing out a giant hemlock tree to make a home for himself, or a girl reading books on a fire escape in early twentieth century Brooklyn. These narratives make an impact, and it is unfathomable to me to think of a life devoid of such stories and books.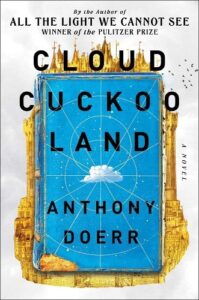 I write all of this by way of introduction to the intriguing new novel by Anthony Doerr (author of All The Light We Cannot See) called Cloud Cuckoo Land. I can't believe I nearly passed up reading this in the flurry of fall releases, but a great reader friend of mine reintroduced it to me with her characteristic enthusiasm and now the book lives on my shelf of beloved titles. It is this kind of personal introduction that is also part of the alchemy of reading, and what I aspire to as a bookseller: providing the right book at the right time to each person.
Deep into these weeks of winter there is nothing like having a big gorgeous book to dive into. This novel of over six hundred pages is a tale of voyages and is a journey unto itself as it follows the course of an invented ancient text about Aethon the shepherd and his comic search for a utopian paradise. Changing shape from man to beast (donkey, fish, crow) and back again, he arrives finally at the discovery that "what you already have is better than what you so desperately seek."
But Aethon's tale is just one of the delightful constructs by which Doerr ties together the much more expansive stories of five other engaging protagonists, spanning centuries and landing us in places as varied as Ancient Greece, Greenland, Korea, Constantinople, and Idaho. I fell in love with each of these characters, laughed along with them and shared in their sorrows as they sojourned toward home… "that beautiful place we've always been."
It is impossible for me to convey the genius with which this is told, the enchantment it casts. It is a homage to the written word, stories within stories—strands plucked apart and woven back together by the deft hand of a master.
If all of that sounds too far out for you and a bit of a challenge, I simply ask that you be open to the alchemy I described earlier. As Jeanette Winterson says, "Trust me, I'm telling you stories."
Happy Reading!
Rabih Alameddine
"Not since the inimitable Aaliya of An Unnecessary Woman has Rabih Alameddine conjured such a winsome heroine to lead us to one of the most wrenching conflicts of our time."
Anna Mason
"Morris turned the tide of Victorian England against an increasingly industrialized manufacturing process toward a rediscovered respect for the skill of the maker. Morris's whole approach still resonates today, and his designs are popular and much admired."
Colum McCann
"One story becoming another… crossing centuries and continents, stitching together time, art, history, nature, and politics in a tale both heartbreaking and hopeful."
A Food Adventurer's Guide
Created by the ever-curious minds behind Atlas Obscura, this breathtaking guide transforms our sense of what people around the world eat and drink. Covering all seven continents, Gastro Obscura serves up a loaded plate of incredible ingredients, food adventures, and edible wonders.
Amy Gerstler
Sly and sophisticated, direct, playful, and profound, Amy Gerstler's new collection highlights her distinctive poetic style. In thirty-seven poems, using a variety of dramatic voices and visual techniques, she finds meaning in unexpected places.
Sandro Veronesi
"Long considered one of Italy's leading writers, Sandro Veronesi has re-written the family saga. Ardent, gripping, and inventive to the core, it has already been hailed a classic."
—Jhumpa Lahiri