Be My Valentine!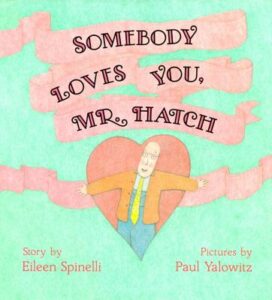 Valentine's Day seems perfectly placed in our year. Right smack in the middle of winter. Just when we need our inner fires relit. A friend related to me that part of the tradition of this holiday is to send an anonymous gift to someone you admire, just as in the delightful picture book Somebody Loves You Mr. Hatch:
One wintry day, a postman delivers a mysterious package with a big pink bow to a lonely man named Mr. Hatch.
"Somebody loves you" the note says.
"Somebody loves me!" Mr. Hatch sings as he dusts his living room. "Somebody loves me!" Mr. Hatch whistles as he does his errands in town. "But who, " Mr. Hatch wonders, "could that somebody be?"
After some time, Mr. Hatch discovers just who his secret admirer is and, in doing so, enjoys the biggest surprise of his life!
Here are some ideas for great reading and gifts for lovers of all kinds:
Literary Classics & Boxed Sets – Melville, Austen, Tolkien, Rowling, Frost…
Bookish Gifts & Games – Bookmarks, keychains, literary pens, beautiful gift wrap, and all kinds of fun games.
Splurge For Your Valentine – Something here for lovers of art, literature, fashion, music, architecture, film and nature.
Happy Reading!